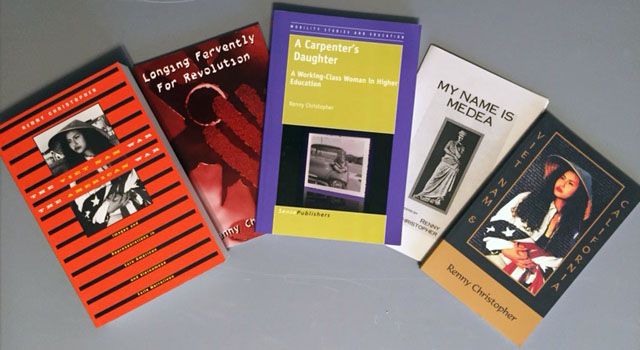 Viet Nam Generation & Burning Cities Press, 1998


"Renny Christopher has given poetic voice to those of us--women--who fought the Vietnam War from the distance of home. Her poems are filled with the pain of empathy. Reading Viet Nam & California can help guide us as we struggle to come home from wars." ---Maxine Hong Kingston


Viet Nam and California

On my map
the two coastlines--
California's
Viet Nam's--
look like they should fit
as jigsaw pieces
if only I could bring them together
at just the right angle.

In the Sacramento River delta
in the center of a park
near the capitol building
a memorial lists the names
of all the California boys
who died in the war.
From the desert to the forest to the beach,
Inyo, Guerneville, Twain Harte, Santa Cruz,
Vacaville, Los Angeles, Bakersfield, San Martin:
six boys from my hometown.

In the delta of the Mekong River
or the Black River
in Sai Gon, Ha Noi,
Al Loc, Qui Nhon, Di An, Chu Lai,
in every town
a monument rises above the roofs
of thatch or tile.
Inscribed
To Quoc Ghi Cung Cac Liet Si--
"The fatherland remembers the sacrifice
of the fallen heroes."

These stones
memorialize the boys
killed by the boys
from my hometown.